{{ root_page.title }}
Leadership and management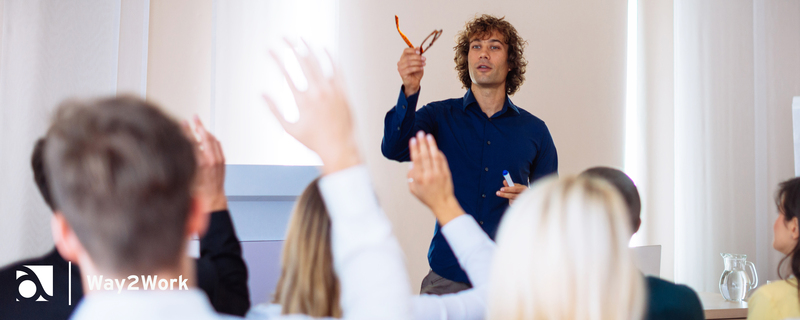 From September 2024, AfC are running a new cohort to support Team Leaders / Supervisors and more experienced managers to further develop their managerial skills and work towards a recognised regulated qualification through apprenticeships.

Apprenticeships are an excellent professional development opportunity for new and existing staff. Managers will have access to a fantastic development package which will involve different types of learning to encourage growth, confidence and new skills. This includes a blended approach of face-to-face and virtual classroom based learning.
Operations/Departmental Manager apprenticeship - Level 5
An Operations/Departmental Manager is someone who manages teams and/or projects, and achieves operational or departmental goals and objectives, as part of the delivery of a wider organisational strategy. They are accountable to a more senior manager such as an Associate Director or Director. Key responsibilities may include creating and delivering operational plans, managing projects, leading and managing teams, managing change, financial and resource management, talent management, coaching and mentoring.
Full details of the Apprenticeship Standard are available here.
Team Leader/Supervisor apprenticeship - Level 3
A Team Leader/Supervisor is a first line management role, with some operational/project responsibilities or responsibility for managing a team to deliver a clearly defined outcome. They provide direction, instructions and guidance to ensure the achievement of set goals. Key responsibilities are likely to include supporting, managing and developing team members, managing projects, planning and monitoring workloads and resources, delivering operational plans, resolving problems, and building relationships internally and externally.
Full details of the Apprenticeship Standard are available here.

Learning outcomes
Both qualifications cover the knowledge, skills and behaviours required by managers across the organisation and meet the government required standard to achieve the apprenticeship. These learning outcomes include:
Project Management
Managing People
Self Awareness
Management of self
Building Relationships
Leading people
Finance
Problem Solving and Decision Making
Strategic & Operational Management
Communication
Professional recognition
This Team Leader/Supervisor or Operations/Departmental Manager apprenticeship is designed to prepare successful apprentices to meet the requirements for registration as an Operations or Departmental Manager with: Chartered Management Institute (CMI) The Institute of Leadership and Management (TILM).
Prerequisites
You must be a minimum of 19 years old
You must have good reading and writing skills in English
You must be employed full or part-time and working at least 30 hours per week
You must complete all enrolment forms
You must hold and be able to evidence at least a Level 2 qualification pass in English and Maths. If not. you must agree to work towards passing the necessary Functional Skills qualifications by the end of the apprenticeship programme
You must be directly line managing at least 2 staff
Commitment
You must be able to spend 20% of your working time each week on off the job training activities (this may be equivalent to 6 hours per week for full-time staff)
You must attend monthly mandatory training classes
You must also commit to prioritising and achieving this apprenticeship
Duration
The level 3 Team Leader / Supervisor Management apprenticeship will take between 15 and 18 months to complete. The minimum learning duration is 13 months.
The level 5 Operations / Departmental Manager apprenticeship will take between 18 and 24 months to complete. The minimum learning duration is 16 months.
Funding
This apprenticeship training costs of up to £4,500 per learner for Team Leader / Supervisor apprenticeship and £7,000 per learner for the Operations/Departmental Manager will either be funded by the government completely or up to 95% depending on whether the employer is levied or non-levied and the size of the organisation. However, staff will be required to agree and sign our sponsoring professional development agreement prior to the commencement of this programme.
The employer will need to immediately set up their own digital apprenticeship account if they do not already have one to reserve funding. Please note that if you are a school or your payroll is managed by another service then you may already be attached to anapprenticeship account in which case please contact your finance manager. The employer will need to select Achieving for Children as the training provider using UKPRN (10047071). See the small employer guide here to setting up your Digital Service Account.
Get help with the apprenticeship service
How funding works if you do not pay the apprenticeship levy
Please note that if you are a non-levied employer(Your annual wage bill is less than £3million) then you must directly pay us 5% of the training costs with the government paying the rest. If you employ fewer than 50 employees, the government will pay 100% of the apprenticeship training costs for apprentices aged between 16 and 18 or 19 and 24 with an education, health and care plan provided by their local authority or has been in the care of their local authority.
How funding works if you pay the apprenticeship levy
If you pay the apprenticeship levy, you will need to work with your:
Payroll department to understand how much apprenticeship levy you are due to pay each month and submit to HMRC through the PAYE process
Finance department for strategic decisions on how you will spend your levy funds
HR or training department to discuss your apprenticeship strategy
How much funding you will receive if you pay the apprenticeship levy
The amount of funding entering your account each month is calculated by:
The levy you declare to HMRC through the PAYE process
Multiplied by the proportion of your pay bill paid to your workforce who live in England plus a 10% government top-up on this amount
Employer commitment
Your manager must be prepared to provide you with the opportunity to line manage staff which will enable you to produce substantial evidence towards your qualification. In order to ensure successful progression, your manager must participate in joint reviews of your progress at regular intervals throughout the apprenticeship and have some involvement with the tasks being undertaken. This ensures continued and positive progress through your apprenticeship. It will also provide the opportunity to discuss and agree how any issues are to be resolved and how additional stretching and challenging activities can be built in.
Assessment and delivery
Learners will receive a workplace visit by a qualified trainer at least once every 6-8 weeks.
Learners will be required to attend monthly training workshops or attend virtual classroom training sessions if required
Final assessment will be carried out by an approved external independent End Point Assessment organisation.
Independent end point assessment
To successfully complete the apprenticeship, the learner needs to pass an independent End Point Assessment which has several stages:
Assessment method 1: Professional discussion, underpinned by a portfolio of evidence
Assessment method 2: Project proposal, presentation and questioning
The assessor from the End Point Assessment body will then decide whether to award successful apprentices with a Pass or a Distinction.
Off-the-job training
All learners will be required to spend 20% of their contracted working time on this programme of study. However, this can be achieved through the completion of assessment evidence towards the qualification, attendance at training workshops, consist of any relevant online training, e-learning activities delivered through the AfC, work shadowing, mentoring, attendance at conferences, webinars and independent research.
Apply now

To register an interest in this new Management Apprenticeship pathway please complete the following expression of interest form by Friday 28th June 2024.

The programme is due to commence in September 2024. All classes will be delivered online or at the Twickenham Training Centre, Grimwood Road.

For further information or guidance, please contact way2work@achievingforchildren.org.uk