{{ root_page.title }}
Fostering - carers' stories
Foster carer's story
Becoming a foster carer isn't simply a matter of 'having room in your home and in your heart'
Fostering requires resilience, determination, a sense of humour, patience, organisation, team work, an ability to push hard for what the children in your care need, an excellent support network – let alone the skills to look after vulnerable children who have experienced traumatic starts to life before coming to live with you.
My family – me, my husband and three boys – have been fostering for about eight years now and we love it. We love having other children as part of our family for as long as they need it. We love the knowledge that we're making a difference for a shortish time to a child. We love that we're playing a vital role in our local community.
We're not superhuman, so we know that many other people and families have these attributes too and could make fantastic foster carers – so why not see if that could be you?
by Ruth Sinclair, Achieving for Children foster carer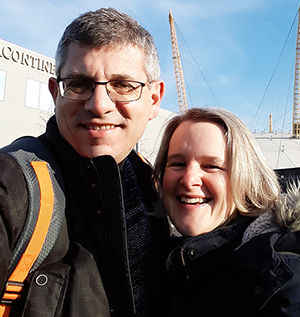 'I don't know how you do it. I could never say goodbye.'
That's perhaps the most common statement we hear when people find out we're foster carers. And, to be honest, it's probably the thing we say to ourselves the most too because saying goodbye to a child you've sought to love, care for and nurture as part of your family is really tough. We all shed tears – a lot of them.
I once heard a foster carer say that the day they stop crying when they say goodbye to a child is the day they stop fostering, and I agree. Being a foster carer is a complex role, but at its heart is caring for a child and, in most cases, helping them to move on well to a permanent home – whether back to their birth family, to adoption or to long-term fostering.
We understand this is the case right from the outset, so when a child moves on we can have a feeling of a job well done (as well as the sadness of saying goodbye).
Fostering does require resilience, every day and not just when saying goodbye to a child. It's an emotional and challenging task, but the rewards are huge.
by Ruth Sinclair, Achieving for Children foster carer
'Can I foster if…?'
I'm not sure why, but people often have a very strange view of who can and can't be a foster carer.
As practising Christians we're sometimes asked by other Christians if having an active faith is an obstacle to becoming a foster family – our answer is 'as long as you can (and are willing to) meet the needs of the children in your care, then it shouldn't be an obstacle at all'.
It's that 'meeting the needs of the child' that is at the heart of so many of the answers to the misconceptions people have about fostering:
Question: 'Can I foster if I haven't got my own children?'
Answer: 'As long as you've got the relevant skills or experience to help you meets the needs of the child in your care, then whether you do or don't have children is irrelevant.'
Questions: 'Can I foster if I have a disability?' 'Can I foster if I'm single?' 'Can I foster if I'm over 60?'
Answer: 'Yes, if you can meet the needs of the child in your care.'
by Ruth Sinclair, Achieving for Children foster carer

Interestec in finding out more? Get in touch